"The COVID-19 pandemic has highlighted the critical importance of employer brand during a crisis, but there is no playbook for this unprecedented time" (SHRM, 2020). With employer and consumer brands being more connected than ever before, now is the time to hone in on your employer brand and see which areas need improvement. Job seekers will remember how a company handled the pandemic, their stance on equality and if they took into account their employees' wellbeing during these times. They will use this to decide which companies they want to apply to for years to come. Make sure you utilize this time to improve your employer brand and make it something your company and employees can be proud of.
What is employer branding?
We all know how a corporate brand works. You offer a value proposition to customers by defining products or services in the marketplace. An employer brand is the "market's perception of your company as an employer. It describes your promise or employee value proposition to employees in exchange for their experience, talents, contacts, or skills." (LinkedIn, 2018). In short, your employer brand is how you market your company to desired job seekers. It's about knowing the people you're looking to attract and defining the essence of your company. When done correctly, it will spark interest around your company and attract your desired job seekers.
What is the value of a strong employer brand?
Every company has an employer brand, no matter if you put the effort and time into it. If you don't invest time in this aspect of your brand, it can be costly in regards to recruiting. "Companies with positive employer brands get twice as many applications as companies with negative brands. They also spend less money on employees" (reviewtrackers). Put yourself in the shoes of a job seeker. Wouldn't you take the time to research the company and go on Glassdoor to see what current or past employees are saying about it? Most of the time, the answer is that you would. You want to work for a company that cares about its employees, and you also want to see if it would be the right culture fit for you. Having a strong employer brand will show potential applicants what your company values are, and the type of culture that you have, making the right job seekers want to work for you.
Employer branding strategy
1. Conduct an employer brand audit
Start by defining what your employer brand stands for and follow that up by creating a spreadsheet that covers topics such as:
Online Presence – company website, career sites and online reviews
Social Media Presence – company social media accounts and your career social media accounts
Recruitment and Hiring Process – recruitment channels (digital, social, traditional), recruitment advertising, career fairs, job advertisements and descriptions, job post distribution, job boards and social recruiting efforts
Candidate Experience – application process, applicant screening process, interviewing process, selection and notification process, onboarding process and training process
Rewards and Recognition Incentives
Current and Exited Employees – performance management process, current employees and exited employees (make sure to include candidates who dropped out of the hiring process)
After you finish outlining your audit, create a SWOT analysis for each category to evaluate strengths, weaknesses, opportunities and threats. Add in employee surveys to make sure your findings align with what your employees think of your employer brand and combine them into one document. You want to see what is working at your company and where you need to make improvements.
2. Identify your candidate persona
Take the time to figure out who your perfect candidate is. Doing this will help you find the right type of messaging to attract those candidates and make them interested in your job postings. You will want to learn aspects about these candidates, such as:
Who they are
Their goals
Their frustrations
What influences their decisions
Channels they look for jobs on
How they search for jobs
Their personality traits
Their skills and attributes
What types of information they trust
What motivates them
3. Define your employer value proposition
First, let's discuss what an employer value proposition (EVP) is. "The Employer Value Proposition is the core of your employer brand that defines its positioning and strategic direction. An effective EVP should reflect the external demands, competition, internal reality and the strategic context of your company. Besides, you also must include the values and principles represented by your company" (Universum, 2019).
You will want to create an EVP that communicates what your company stands for while being credible, relevant, distinctive and aspirational. You want top talent to see growth, value and purpose in being a part of your company. Above all, your EVP should align with your customer brand. However, you will want it to speak directly to your current and potential employees.
4. Leverage your current employees
Employees are the backbone of your organization and are 3x more likely to be trusted by job seekers than a CEO. They tell it how it is and are the ones that shape your company's culture, achieve your objectives and live your values. How do you get them more engaged with your employer brand? Have your employees update their social media accounts, and post about their experiences with your company, write reviews on job sites and share any open positions with their networks. For this process to be as smooth as possible, consider having a small training session on how to utilize their social media accounts and how to optimize their profiles to grow their networks.
5. Cultivate a healthy onboarding process
According to G2, people who have a negative onboarding experience are "twice as likely to seek a different opportunity." You want to make sure that your employees are engaged and excited about their roles, be members of their team, and have the right tools to be successful. Need ideas for a remote onboarding process?
6. Offer learning and development opportunities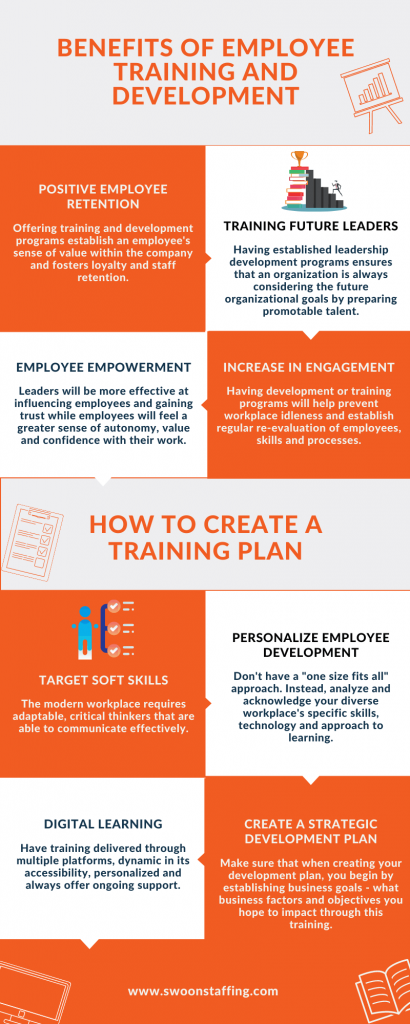 In 2018, the number one reason people left their jobs (33%) was that they were bored and needed a new challenge (Inc). Try offering management and leadership training, specialized certifications and avenues for career advancement. This could allow for more internal promotions and happier, committed employees.
7. Utilize LinkedIn to tell your company story and educate your employees
LinkedIn is an excellent avenue for reaching and engaging with job seekers by creating content and promoting your company's story. Below are a few ways to get in front of those candidates:
Interact online – encourage your employees to join conversations on LinkedIn by commenting, liking or sharing news and opinions in various groups or to their networks
Update your company page – make sure your company's LinkedIn page is entirely up to date as this is the first place job seekers will go after seeing your job opening to learn about your organization
Tell your company story – utilize your career pages as an extension of your company page to tell your company story and drive applicants to your jobs. You can tailor the job messaging, use media such as photos and videos and write creative and capturing job descriptions to show off your culture
LinkedIn Learning – a great learning platform to enable employees to grow personally and professionally
Need ideas on how to set up your company's LinkedIn page? Take a look at our current page!
8. Create a strong diversity and inclusion initiative
Why does diversity hiring matter?
It grows your talent pool – you will gain interest from a broader range of candidates because more people can relate to your company
It improves employee happiness, productivity and retention – employees feel they are accepted and appreciated no matter their age, gender or ethnic background
It improves innovation and creativity – different experiences, working styles and background sparks new ideas
It's positive for your employer brand – it helps you appeal to many different customers, candidates and potential business partners
It increases your workforce's range of skills, talents and experiences – it will help you better understand your customers' needs
Make sure that you show your commitment to building diverse teams while creating a strong employer brand. Extend your brand's reach (both customer and employer) to new groups by having unique thinkers from different backgrounds.
Having a compelling employer brand will not only separate you from your competitors but it will also be a motivating factor to bring in new talent. Job seekers are looking for companies that care for their employees and speak up during hard times for what they believe in. If you can build a strong but accurate employer brand, you'll be able to continuously bring in the best and brightest talent!