When you think of a "badass," who do you envision?
Working parents are fueled by courage, compassion, and selflessness in the office and at home, all while facing endless to-dos, parental guilt, and deadlines – these actions truly define a badass. Working parents also bring some pretty killer skillsets to their work and home lives like time management, efficiency, and empathy.
As leaders, transparency about needs, challenges, and wants are critical – and perhaps even more necessary as a working parent. Many call working parents superheroes, but we're also human. More often than not, co-workers, teams, and leaders are in the same boat paddling towards a version of work-life balance. Whether parents or not, your team looks to you to set the standard on how to navigate expectations and set boundaries.
That is why we sat down with Eileen and Sara, moms/superheroes/humans and successful leaders, to discuss juggling their professional roles and the demands of being a present parent. It is far from easy, and as they can attest, there are plenty of obstacles, but the richness of carrying both titles seems to fuel both of them in amazing ways.
"It seems cliché, but it takes a village. I could not even imagine what it would be like if I did not have that level of support. Even the team that I lead – they aren't parents, but they respect that I am and understand that it's my responsibility to set the expectation to sign off at a specific time to be present for dinner, bath time, bedtime, etc. I will be available to them when I log back on. To me, it's about proactively setting expectations and boundaries, and I think that can be hard for many professionals, let alone a working mom who has a subconscious guilt that can damage professional growth." – Eileen Ziesemer
While they both know that there will never truly be an equal balance, Eileen and Sara share their advice on prioritizing, reducing stress, and finding a sense of balance.
Meet Our Guests: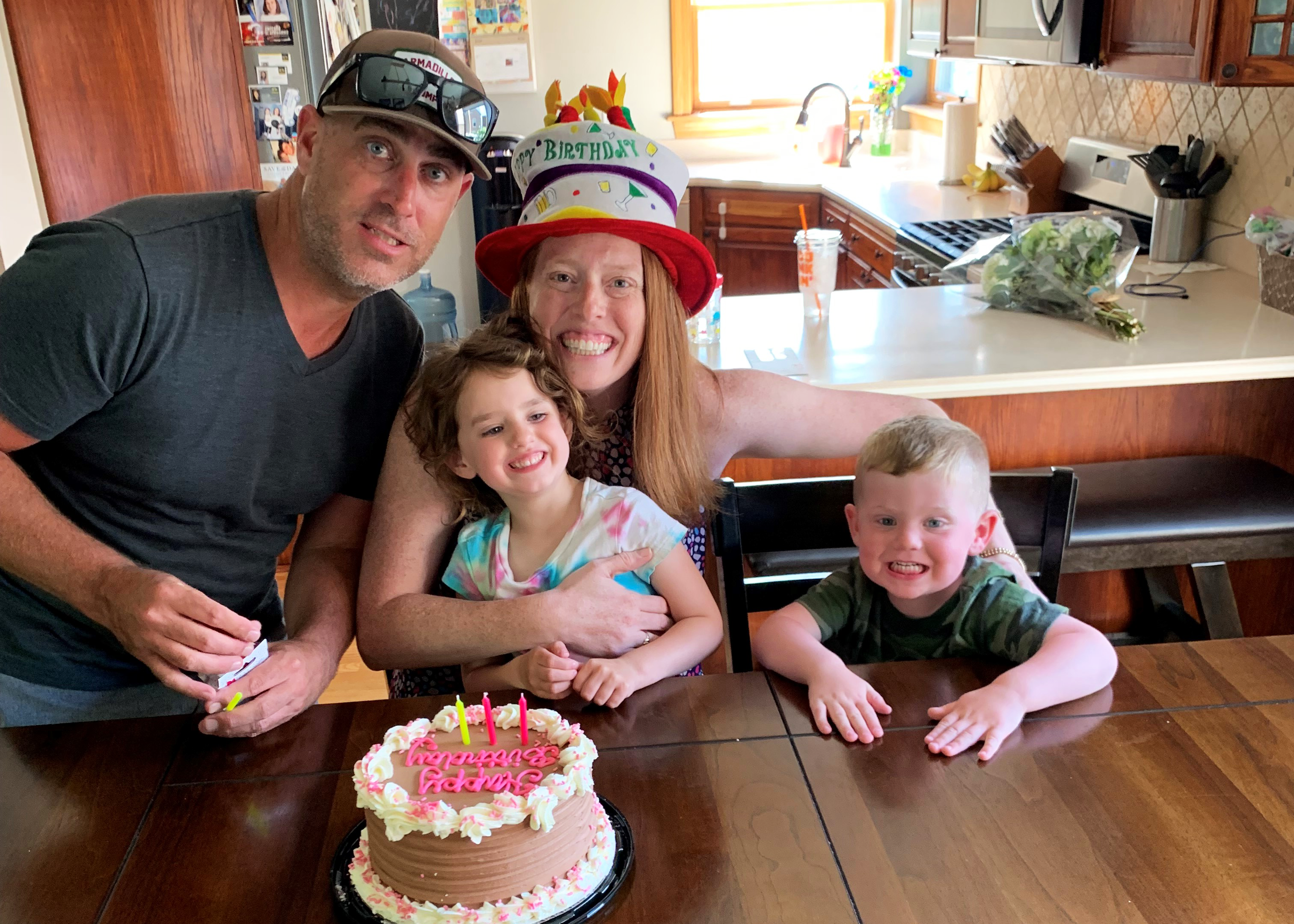 Eileen is the Vice President of Public Relations at Ulta Beauty, where she works to bring the brand narrative to life tangibly and meaningfully. She is a proud wife and the mother to two children, her daughter Zoey (4) and her son Jimmy (3).
Sara is the Vice President of Recruiting here at Swoon. Based in our Chicago headquarters, Sara is responsible for leading our Recruiting organization. She is a proud wife and mother to two children, her daughter Ellie (7) and son Bennett (5).
Sara: How has your perspective changed being a working mom of two? Do you feel that it has positively affected your work and the great success you have seen throughout your career?
Eileen: As a mom, your time management skills get that much better. In a PR world, there are many hats to wear, whether agency or in-house and time management is a critical component.
When I had kids, a new deadline I did not expect came with them: Getting home for dinner, bath, and bedtime. To do that, I need to be that much more efficient and effective with my time. Overall, I went from being married to my loving husband and my job to being married to my husband and job with kids. Candidly, that shift was hard for me, and I was not expecting it to be. I am very type A and thought I could figure it out because I had many friends who had done this. The conflicting emotions that came with leaving them to do what I am so passionate about created a duality of priorities. I had to figure out how to manage both without sacrificing one for the other.
I think being a working mom is all about finding what works for you because there is no real balance. It is okay to lean a little bit further into one on certain days as things change. We know we cannot control everything. Kids may get sick, or I might have a pressing deadline, and both of those things are okay. I know that I am a better professional when I know my kids are well taken care of.
Similarly, I am a better mom for knowing my career and drive set to be a good role model in their lives. I removed setting a work/life balance from my goals and shifted my mindset to be one that is focused on creating harmony between my two roles. And wouldn't you know it, they do end up working themselves out.
Sara: What do you think Ulta Beauty has done to foster a positive company culture for working parents? What are some actionable things other companies could do to promote the same working environment?
Eileen:
"I love Ulta Beauty for so many reasons, and one of them is that 90% of our workforce of 40,000 employees are female."
Just imagine how many moms are in that crew. There are groups across corporate, store level, and our distribution centers that bring together parents and offer resources they may find useful. Our Human Resources teams also do a lot to empower associates, from tools for childcare support to very inclusive maternity and paternity leaves and so much more. I wish my husband would have had such an option when we had our kids. In our instance, he was home for just one day after I delivered. Now, I am at a company where dads get to take the leave too, and I think that is just so important. I share this because it is one example of how Ulta Beauty values family and fosters a community of colleagues.
With a daughter and a son, I am cognizant about what kind of role model I am for them. Beyond the golden rule, I want them both to see being a mom is possible while being a successful professional, and Ulta Beauty allows me to do just that. I will also say that I started this role in a bizarre, nuanced time in the world. So, I am home, and there are silver linings to that as well. I got to be at drop-off and pick-up when both started preschool, which would not have been an everyday truth if not for the pandemic.
Other important aspects are having a supportive boss and a culture with values that are more than just "words on a wall." At Ulta Beauty, our values guide our actions and set the tone for our culture. And while inclusive benefits are table stakes in today's market, we are thinking about the next generation of the workforce. They will only want to work for inclusive brands that offer all the options. They will seek out companies that follow through and resemble the values that they, themselves, believe in.
Sara: I think that is innovative and different from many other companies. Having a corporate employer nurture its culture and ensure the human element of leaders who support you goes a long way. You need that support both at home and at work to feel like you are successful in both areas of your life – both a working professional and a mom.
Eileen: It sounds cliché, but it takes a village. I could not even imagine what it would be like if I did not have that level of support. The people on the team I lead are not parents. Still, they respect that I am and understand that it is my responsibility to set the expectation to sign off at a specific time to be present for dinner, bath time, bedtime, etc., and I will be available to them when I log back on. To me, it is about proactively setting expectations and boundaries, and I think that can be hard for many professionals, let alone a working mom who has a subconscious guilt that can damage professional growth.
Sara: Having those boundaries and priorities trickles down to the rest of your team and those who eventually may have children establishes you as a role model. So, it is even more added pressure to make sure that you are setting a good example and showcasing that you can have both – a rewarding professional career and a family.
It is essential to have those boundaries: picking up from school, going to the school play, being present for dinner and bath time, and not being on my cell phone. That is mom time. I will be available to you before or after, but that is my time with my family, and that is important to me. It can be unrealistic or challenging at times, but it helps foster a positive professional and personal life. Your team understands and will know that setting boundaries and having balance in the workplace is acceptable. Whether they have kids or not.
Sara: Knowing that it can be an unrealistic goal to have that equal balance, are there certain things you have created in your life where you have come close to balancing the two?
Eileen:
"Someone once told me that you have to stop waiting for balance at a certain point. You have to start creating it. To me, that meant creating the life that I wanted, setting the boundaries that worked the best for me and my goals professionally and personally. I am a mom. I am a manager. I am a partner. I am a collaborator. I am a driver. I am part of teams. There are expectations that others put on me, but I have the responsibility and obligation to set my path and do right by my teams and my family."
In my toolkit, I have my network of mentors who I have watched as amazing moms who have accomplished so much. They helped showcase that you can do it all – no matter what it all means to you. Is it hard, yes, but it is not impossible. I lean on them and my friends. I set my goals differently. I understand things a little bit differently and contextually. I now dig in a little bit further and try to be more introspective. Then, I think external accomplishments follow.
I am also more independent, which seems counter to the network piece. Agency work and public relations, in general, is a team sport. So, when I became a mom, that trust remained, but something shifted as I started to feel empowered by my own needs. It was a harder shift mentally, but an important one to make as it allows me to come back to my priorities quickly.
Sara: What is your favorite part about being a working mom?
Sara: Whether it is a new mom currently working or someone coming back into their career, what do you think is an essential piece of advice you have just for moms in general who are pursuing a career?
Eileen: For me, being a working mom gives me the inspiration, fuel, and drive to set examples in different ways. I have exceptional friends who are stay-at-home moms and excelling at that job, setting different examples for me.
My advice would be if you want to be a mom who also works, go for it. It is easy to find reasons why not to, but sometimes there is no right time for life. Do not let fear hold you back. Everyone deserves to live the life they want.
The other advice I would share is that there is nothing in life that you cannot undo, professionally speaking. If you go back to work and find that you do not love what you do anymore, make the change. Look at the times we are in now. The job market is so candidate-driven. People have taken time off to reflect, assess, and say maybe this is not the industry for me anymore. They are making moves because life is short, and we should all be fulfilled. Let's work to normalize harmony between work and life, avoid fears that can paralyze us, and instead look at those opportunities as motivation.
Sara: That is an interesting way of looking at such a challenging time for all of our lives. We need to find that silver lining and look at things differently to say I want to live my life, I want to be happy, I want to be successful, and prioritize what is important.
Sara: The pandemic made being a working mom harder for all of us, and you started a new job during that as well. What was that like for you?
Eileen: I started in my current role on March 23, 2020, and as we all know, the world seemed to break on March 19. Talk about a time to be self-reflective as I needed to show value from a guest bedroom at my mom's house. If you had told me that I would be working remotely in the most challenging of times during a major chapter of my career, I would have thought you were crazy. I think back to when we had to have phone cards in college when we were not always connected. When we studied abroad and found internet cafes just to let our parents know we were alive. Today, the idea of sending Ellie or Zoey to Europe without one of us or a phone to track them is just insane. This technology that keeps us connected, especially as it has enabled us to work from home, has allowed working parents to have greater flexibility. I think we will emerge with a newer sense of self and priorities.
"Joining such a wonderful company at such a wild time has reinforced the value I place on the titles I carry – Business Leader, Wife, and Mom. I think it has also given me a greater perspective about opportunities in the professional world to help companies evolve and meet the new set of expectations as consumers' values and behaviors shift. There has been such an evolution in 22 months which creates exciting opportunities for working parents with more tools at our disposal to create more harmony between work and personal life."
Sara: Having that balance and priorities in place helps too. I am fortunate that I am able to work flexibly at Swoon. This helps me as a business professional and as a mom. Just like you take your kids to school every day, my team knows that at 3:15, I am not available. I am picking my daughter up from school, and I build my schedule around that. There are also times when I go into the office, and my husband picks her up. You need that balance, and sometimes stepping away or working in the office for the day is just what you need.
Eileen: Exactly! We both have supportive husbands who share the parenting responsibilities, which is amazing. They have elected to lean in that way which 20 years ago was pretty rare. They see our drive and passion and having their support fuels the harmony. It lets us teach lessons that are important to our kids, and for me, it is really about possibilities. We can show our kids that they can be anything – Jimmy can be a stay-at-home dad or work with Amanda Gorman. Zoey can cure cancer and be a room mom for preschool. We are in the driver's seat of our careers and as parents because we have such a great support system and flexibility in place.
Sara: We both have a lot of friends who are stay-at-home moms too, and that job is just as challenging as being a working mom. My mom was a stay-at-home mom, which is all I knew growing up. There is so much respect and admiration for whatever your parenting path may be. I have learned that in being a parent, you need to have a support system in play. I do not know how I would manage it without that support – parents close by, friends, my siblings, neighbors, etc. Plus, the relationships our husbands have with our kids, the support they provide, and the time they are able to spend together is simply amazing.
Eileen: I could not agree more, and how lucky we are to have the opportunity to "do it all" our way!
Eileen Ziesemer
Vice President of Public Relations | Ulta Beauty
Sara Riggs
Vice President of Recruiting | Swoon