Breaking through glass ceilings and gender biases are still significant challenges women face in today's workplace.
While we have made significant progress in reducing gender bias, we still have a long way to go. For example, an article by the New York Times discusses that with just 3% bias, it can take a woman 17 performance reviews and 208 successful projects to be promoted compared to a man's 8 performance reviews and half the number of successful projects.
For this Women's History Month, our Women's Initiative Network (WIN) put together an open and honest panel discussion to figure out ways we can not only reduce individual unconscious bias but bias within our organizations as well.
Join us as our panel discusses influential women, ways to stop gender bias, the shortage of women in leadership, how they overcame adversity, and what women in leadership means to them.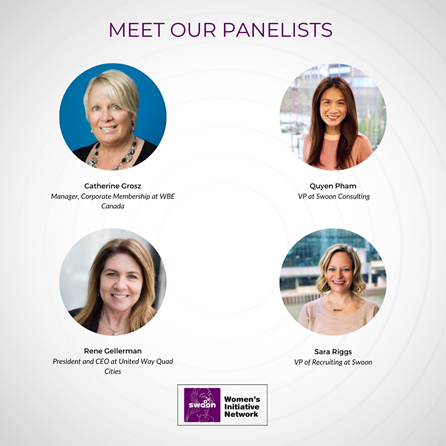 Panel
Catherine Grosz – Manager, Corporate Membership at WBE Canada
Rene Gellerman – President and CEO at United Way Quad Cities
Quyen Pham – Vice President, Swoon Consulting
Sara Riggs – Vice President, Recruiting at Swoon
Tatyanna Sarjeant – Major Account Manager and member of the Women's Initiative Network at Swoon
Tatyanna: Who was or is your role model and/or leadership mentor?
Sara: I feel blessed to have a lot of role models and mentors in my life. Growing up, my role models always stemmed from my family – my mother and grandmother. Now, I am inspired by the people I work with at Swoon. I am inspired by our women leaders, my team, and our founders, Andy and Michelle, who constantly push us to do better, grow, succeed, and step outside of our comfort zones. I have learned that you should never get too comfortable. Instead, look ahead to see what is next in life, your career, and your trajectory. I hope to inspire my team and other leaders within Swoon by leading by example, leading with empathy, and being a resource and friend. It all starts with leading by example.
Tatyanna: How can we stop gender bias in your opinion?
Quyen: I was rereading some articles the other day to prepare for this panel discussion, and I found an article written by the New York Times in late 2021 by the author of the book, The End of Bias: A Beginning. The article discusses data and data modeling for findings of bias. Something astounding to me was that just 3% bias can take a woman 17 performance reviews, as opposed to a man's 8 performance reviews, and a woman's 208 successful projects as opposed to half of that for men for the same number of promotions. So, 3% bias over a career timespan is a massive magnitude of gender equality and what is going on right now in the workplace.
To combat bias and the overall impact on a career, we need to invest time and energy into sponsorship and mentorship programs. Likewise, companies need to invest in that aspect. Having leaders and executives involved in these underrepresented groups as individuals creates such a significant impact.
When we started our DE+I journey at Swoon, I had the opportunity to speak with Carlos Cubia, Global Chief of Diversity, Equity, and Inclusion at Walgreens. During this meeting, Carlos talked about the leadership accountability model, and he poignantly asked if Swoon's leadership was ready for this change, which caught me by surprise. He also mentioned how it is not okay to say that you cannot find diverse talent because you will find the best in front of you, which is where he brought up this excellent fishing analogy. If you go fishing in a bass lake, should you wonder why you only get a bass? So, the follow-up questions here need to be, where are we fishing, and are we fishing in the right pools? As a recruitment company, not only do we need to think of ourselves internally but for our clients externally.
Other than mentorships and sponsorship programs, we need to consider how we interview and our recruitment processes. There is a Harvard Business Review article on human behaviors from 2021 where they talk about the issues with informal recruitment processes. Leaders and hiring managers tend to go with people that they know, are recommended to them, are advised to them, or just people in their internal networks who can feel and look the same as who they are. It is essential to lengthen that shortlist of people and go out to more diverse pools. There should be a formalized process that I need to follow, and I need to interview everyone to decide who is the best candidate is to get the job. That is how you get more diversity in your pooling.
Tatyanna: Why do you think there is a shortage of women in leadership roles?
Catherine: To start, I remember the days when there was this quote-unquote glass ceiling for women who wanted to break into leadership roles within a corporate organization. It took some powerful women to break that glass ceiling, but it also took male leaders to lend their voices in support of their careers and stand up for the growth of women. I remember the days when a reason not to be promoted was just because you were a woman of childbearing years. Thanks to today's government policies and companies that have developed solid policies and programs, we can better support these women and their growth within their organizations. I am seeing more women take on leadership roles with all of these advancements, but are we there yet? Not necessarily.
At WBE Canada, I am able to speak with outstanding women entrepreneurs in my current role. Many of the women entrepreneurs I have talked with used to work for large corporations where there was no room for a woman with children because the work-life balance was not there. So forget any promotions into a senior role within that company. While we have come a long way, I often still find the conversations shifting to those industries that are male-dominated. The common theme is how hard it is to break that glass ceiling, let alone receive a promotion, or how as a woman entrepreneur, it is hard to break into bid opportunities within these more male-dominated markets.
I love my role at WBE Canada because we help break the barriers to allow women the freedom to lead their organizations and help them scale their businesses to work with those larger corporations that they once belonged to.
We have come a very long way with women in leadership roles, but there is still so much to do. However, with the support of each other and our male advocates, I believe we will see women in leadership across Canada, and the United States continue to grow.
Tatyanna: Have you ever faced adversity in your career as a leader? If so, what was it and how did you overcome it?
Rene: The bulk of my career (12 years) was spent working at a Chamber of Commerce, where I started in membership sales and fundraising and eventually moved up into a senior vice president role. In that senior vice president role, I worked across sectors – business, nonprofit, government, education institutions to develop a collaborative community and economic development plan that would make our region more competitive. A place where families would want to plant roots and businesses would want to grow. Then, about 4 years ago, at 50ish years old, my position, another senior-level woman, and 3 other females were eliminated. We were terminated unexpectedly on the heels of our female CEO leaving and a male CEO joining the organization.
My identity is wrapped in my work. It is who I am and what I do which drives me to get up every day. Even though my whole career has been mainly behind the scenes, it was necessary as I worked very publicly with many public figures within our community. Being let go was devastating to me. I was embarrassed, scared, confused, disappointed, and just pissed off. I spent several days feeling sorry for myself, and it took my family reminding me who I am and encouragement from others to get beyond it. I also did not have much time to process what had happened before I had to react somewhat publicly because it was in the newspaper. I had to choose how I wanted to handle the situation. I ultimately decided to take a saying that I have always lived by and live it, which is when there is a fork in the road, take the highway because it's clearer and you can see further. So, that is what I did. I wrote an op-ed to my local newspaper praising the work I had done, praising the volunteers and civic and public sector leaders involved, and encouraged people to continue the momentum because this was the pathway to a more prosperous community. Within a week, I was contacted by a pretty influential woman in our community who asked if I would consider contracting with a local nonprofit to help right side some fundraising and communication challenges they were facing. I took that gig, and I never forgot the lesson that I learned during that time, which was to take action, do something small, and do something positive when you are in the face of adversity, do something positive to move yourself forward.
After taking that position, which was with United Way, their CEO left, and that is where the real hero comes into this story. I had a couple of women come to me and ask why I did not apply for the open CEO position. Like many of you, I felt like I did not have enough experience, was not equipped, and did not have the skills to take on the immense responsibility of being the CEO. These women asked me to coffee and not only encouraged me but also gave me examples of where I demonstrated the kind of leadership that would be so important for this organization to succeed.
To summarize, the people who uplifted me, whether they were my family or women in my community, helped me overcome my time of adversity. They lifted me and gave me the courage to move forward, and I could not be more grateful.
Tatyanna: What does women in leadership mean to you?
Quyen: I am constantly reminded that leadership is not management, which is very accurate. True leadership is guiding, mentoring, and sponsoring. It is helping people get to a place and achieve things that they maybe do not think they can. It is also creating an environment that will be an advocacy environment for them to be able to do so. That is when you get the best out of people. When they are doing things, they are passionate about and doing the things they want to be doing. It is not about management or metrics or anything like that. I think particular to women in leadership, everyone has their own journey. Why would some women leave the workforce when they have worked so hard to get somewhere? Why would we feel the pressure to return after having a child or surgery so soon? We are afraid that our jobs will be replaced after working so hard to get there in the first place. That is where we have to work individually and as women to try and change that. If we were represented more in leadership, there would be a difference in thought of understanding what a leader should be and the impact that we could have.
So, it is more about making an impact, helping our company achieve the goals the company wants to achieve, and providing a different thought process that is unique to us as women and our experiences. All those things are so incredibly important because it creates a more rounded company and a more rounded leadership team that is then going to produce better results in the marketplace for your clients. The world is not only made up of men buying goods and services, but women also buy goods and services, and diverse people buy goods and services. That is why it is so vital that women have a seat at the table.
Rene: My definition of a successful female leader, or any leader for that matter, is someone who believes in who they are, in what they can offer, and that they can utilize their skills and talents. Someone who can capture the hearts and minds of people who choose to follow them.
Sara: I think it means strength, leading with purpose, intent, treating people the way you want to be treated, leading with empathy and courage, sharing your ideas, staying strong in your beliefs, fighting for what you think is right, paving the way for others, and overall, being that role model for future generations.
Catherine: Some of my best roles across North America were with female leads and leadership. Generally speaking, women are nurturers, and I have to say, I probably learned more from women leaders than I ever learned from my male managers. They have the patience and take the time to help you grow. If I am learning something new and you want to nurture or mentor me to do something better and think outside the box, that is okay. I have taken a lot of that type of mentorship from women leaders, and I still use it today while mentoring other women.
Click here to read part 2 of our WIN panel discussion!